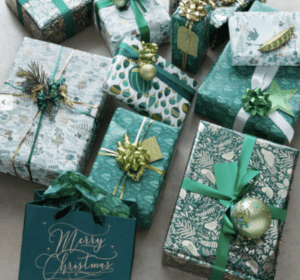 We've recently discussed the perfect way you can wrap your Christmas gifts to light up someone's festive season, but is wrapping paper best for you? Or would you prefer Custom Christmas Gift Bags? Today we'll be discussing these two highly popular gift packaging, and what might be the best for you.
Christmas is the season of forgiving. Thoughtful and meaningful presents should be adorned in elegant wrapping paper or a festive gift bag - but which is better? Luxury Christmas gift bags are snowy, much fun to receive and can comfortably be transported around wherever you go. However, can you top cheap bulk Christmas printed wrapping paper to keep your loved ones merry and bright? Whatever memorable Christmas present you decide to get for a stocking filler, make sure you don't overlook the wrapping paper or gift bag. The last time we checked, it's the season to be jolly and create special memories with family and friends.
Festive cheer is not only in the present, but the whole experience of holding and opening a present that is exclusively for you. So, make it rain this Christmas with decorative and thoughtful wrapping paper or gift bags that sit proudly under the tree. The gift is in the wrapping…
The Advantages of Custom Wrapping Paper
Believe in your elf this Christmas by making your gift one remember. Whether you are keeping things simple by using traditional red wrapping paper trimmed with a ribbon or pushing the boat out with personalised Christmas wrapping paper, whatever you decide, make sure you put in the groundwork otherwise you'll be sorry! If you want to rock your Christmas socks, customised or handcrafted DIY wrapping paper is sure to make s'more of an impact on your nearest and dearest. Dust off the shelves, get the paintbrushes out and start decorating some old brown newspapers or plain white paper. Embellish your paper with a magical festive design, add some pompoms or sprinkle with a little bit of glitter for that frosty feelin'.
Worried about getting your tinsel in a tangle, why not let Apprintable customise your wrapping paper for you? A personalised Christmas wrapping paper including a kind-hearted message or hand-crafted design can speak volumes - a small gesture that is sure to leave a big impact. Why not design and print your own Xmas wrapping paper to show you are not a cold-hearted Ebenezer Scrooge, bah humbug! Embroider your wrapping paper with vibrant colours or festive designs; a personal touch that goes the extra mile for someone special.
The benefits of Printed Custom Gift Bags
Why go through all the hassle of carefully wrapping each gift when your presents can be enclosed in a beautiful gift bag? Printable Christmas gift bags are the perfect accessory to melt any heart this Christmas. Gift bags are bursting with love – the best product to add the finishing touches to a thoughtful present. From ornate festive designs to traditional Christmas colours, small or large gift bags are a fantastic accessory to place under the tree. Gift bags are reusable - and eco-friendly alternative to single-use wrapping paper!
Gift bags are ideal companions to transport fragile presents from one place to the other, they are extremely durable and can contain multiple presents inside. Whether you bought a bottle of bubbly or have crafted a handmade present for a loved one, personalised Christmas gift bags present your gifts in style.
It's beginning to look a lot like Christmas with customisable natural brown gift bags! You will want to take an elfie with Apprintable's Brunswick paper bags because they go hand in hand with the jolly season. The Brunswick paper bags are undecorated for a specific reason – allowing you to get your creative juices flowing! Our Brunswick paper bags are environmentally friendly, sourced from a resilient paper material, and fully customisable to fit in with your festive needs. Order Christmas gift bags in bulk to skip the queue and get your Christmas off to a joyful start.
So which Personalised packaging is the winner?
Our gift bags are the perfect accessory to spread Christmas cheer or can you not compete with beautiful decorative wrapping paper? Without a doubt, both products are laden in tradition and have a compelling and long-lasting association with Christmas. At Apprintable, it is hard to decipher which one we prefer because they are both magical accessories. Gift bags are multifunctional and serve a utilitarian function – they are comfortable to hold, eco-conscious and can be transported from place to place, plus they look so cute! On the other hand, nothing quite compares to sitting under the tree with your loved ones on a Christmas morning and opening perfectly wrapped presents. One thing is for sure, whatever Christmas is looking like this year, make it a December to remember with customisable gift bags or wrapping paper to give the gift of Christmas.