We recently explored avenues you should consider when deciding what poster printing service you should use. Now that you've had a look at the options, have you ever thought of the value using posters can have in your personal life?
Dressing up for Halloween really is something that appeals to any age, but are you tired of seeing the same old witches and vampires around at Halloween? We have put together a list of great costumes that are all inspired by posters.
Why posters you may ask? Well, we just thought that the creativity of these Halloween costumes will help you to stand out in the spooky crowd, no matter what your plans are for the night! The range of Halloween looks are perfect last-minute costume ideas, most of these can be created by rooting around in your wardrobe (and your friends) and then buying a large poster!
Be the one everyone is looking for with a Wanted Poster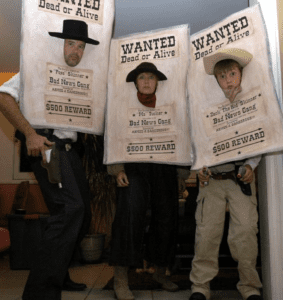 First on our list of inspired Halloween costume posters is an old western 'Wanted Poster'. This poster inspired look is a reinvention of the classic cowboy costume. This costume would be easy to replicate on a budget; if you have a cowboy costume laying around from last Halloween be eco-friendly and reuse it with the addition of a Custom printed A1 Poster to get this look. Something reminiscent of wall art!
No cowboy costume at home? No worries! This could easily be recreated by only purchasing a cowboy hat. Alternatively, if cowboys aren't your thing, why don't you throw on a striped top and all black and make this a burglar bill wanting Halloween fancy dress costumes.
A modern twist on a traditional Scream Poster
Not quite a poster, but definitely a Halloween look you will certainly make some noise in this Scream costume when you go trick or treating. Combining the horror movie 'Scream' with Edvard Munch's 'The Scream' this Halloween poster costume is a hilarious take on two iconic screams. Something that belongs on art gallery walls.
Another easy one to create because all you really need to wear is all black. The only items you would need to purchase to get this Halloween look would be a ghost-face mask and of course, a same-day poster for printing to ensure your outfit is ready for Halloween and not a day late.
If you want to get real creative, there are plenty of online tutorials that show you how to create your own ghost-face mask! You can get really creative with this and get art prints.
We Can Do it Poster
The 'We Can Do it' poster which was created in America in light of World War Two has had many reiterations over the years.
The branding on this poster is instantly recognisable and so you will definitely stand out at any Halloween costume party. Remember if this high-quality poster inspired a Halloween costume good enough for Beyonce, then it is definitely good enough for the rest of us!
Everyone has or knows someone that has a denim shirt lying around and that is the main element of this Halloween costume. If you don't happen to have one, any standard blue work shirt would even do. The only other thing you need to complete what you wear for this costume is a red hairband; these are cheap to buy but if you are going for a no-buy costume you could easily recreate this with a custom printed t-shirt.
If sewing is not a skill in your arsenal then no worries, it would be a no-sew costume addition! All you really need to do is cut a large rectangle out of any old bit of red material and then tie it around your head.
A Sirius look for a Harry Potter lover
If you are a Sirius (excuse the Potter pun) Harry Potter fan, then this poster inspired Halloween costume is definitely for you. Every Halloween there are millions of people out in a wide range of Harry, Ron and Hermione costumes so this poster costume adds a new twist to an overused idea.
In the Harry Potter movies, all print pictures move which only helps make this Halloween costume more authentic. Hair is a big feature in this Halloween look, Sirius Black has a very distinguishable head of hair and facial hair so a wig is needed.
If you are lacking in the beard department then you could easily purchase some facial hair from a costume shop. Alternatively, if you do not fancy having weird fuzz on your face all day you could draw it on with some skin-friendly ink. To complete the jailbird look you can use an a4 printed flyer to recreate his prisoner number sign.
I want you" to look your best for Halloween!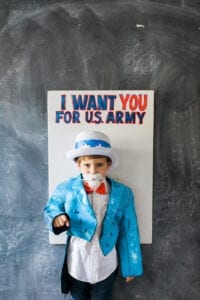 If you know the 'We Can Do it' poster then you have to recognise the 'I Want You for U.S Army' poster. This patriotic-themed Halloween costume only takes a star-spangled banger hat and blue and red outfit to really sell the look of the Uncle Sam poster.
If you want to be sustainable as well as creative, you can use a Poster on recycled paper for this look to really showcase your love for the environment alongside a good Halloween costume! As you can see from the picture if an American flag hat is hard to find you could create one yourself by using a white top hat and adding some blue and white details.
A standard white shirt would be perfect for this look and if you don't happen to have a red bowtie you could always create something out of some old red material. A blue suit jacket would tie together this look but if you don't have one and don't want to fork out to buy one, a blue cardigan could get the idea across just as easily.